Well, hello y'all! :)
Whew! After a adventurous trip to Ikea, I am thankful that I made it back home! My trip to Ikea the other day was overall a success. Though, coming back home, was somewhat a different story. Cruising along the highway, I was doing fine. Then my gas light dinged. Okay, this had me a little concerned because the highway I was traveling is basically a 'back road' to everything, so you're in the middle of nowhere. I just kept praying, please get me to the gas station! Needless to say, I did make it there! However, upon pulling in and leaving I noticed the front end of the car felt 'heavy' and I heard 'grinding/popping' sounds. This was not good. I pulled into a parking spot, got on the ground looked under the car, opened the hood and made sure everything was good and intact. I didn't see anything abnormal. So, I continued my way home (which luckily, was only about 10min away). Well, once again I was praying to make it home. Things just weren't feeling right. Well, I made it home!
I had my husband get in and drive it down the rest of the block. He turned right around and knew something was off. Okay, this was good in a way because I knew it wasn't just me. So, my husband began trouble shooting the problem. And he found what it was. Our wheel on the front passenger side was NOT turning!!! It was locking up! The wheel should turn freely and it wasn't! My husband was thankful I made it home, because had it locked up on me while driving, it could have been tragic! I told him, maybe me Dad was watching over me?...Certainly, God had to be?...After, hearing him tell me that, I too was thankful. After everything, my husband had a friend of ours take him to the auto store, to get everything we needed to fix the problem. (note to self: wheel bearings are not cheap.) Needless to say, we have fixed the issue and are 'good to go'. Whew!
Anyhoo, thanks for letting me tell my little story. I thought I fill you all in on things, because I have been a little bit quiet on my blog and on visiting blogs. ;) So, I do have a card to share today! It's not for any challenge nor DT work, just something I created with some free time I had. :)
I recently won some goodies, and couldn't wait to play with them! Here's what I did!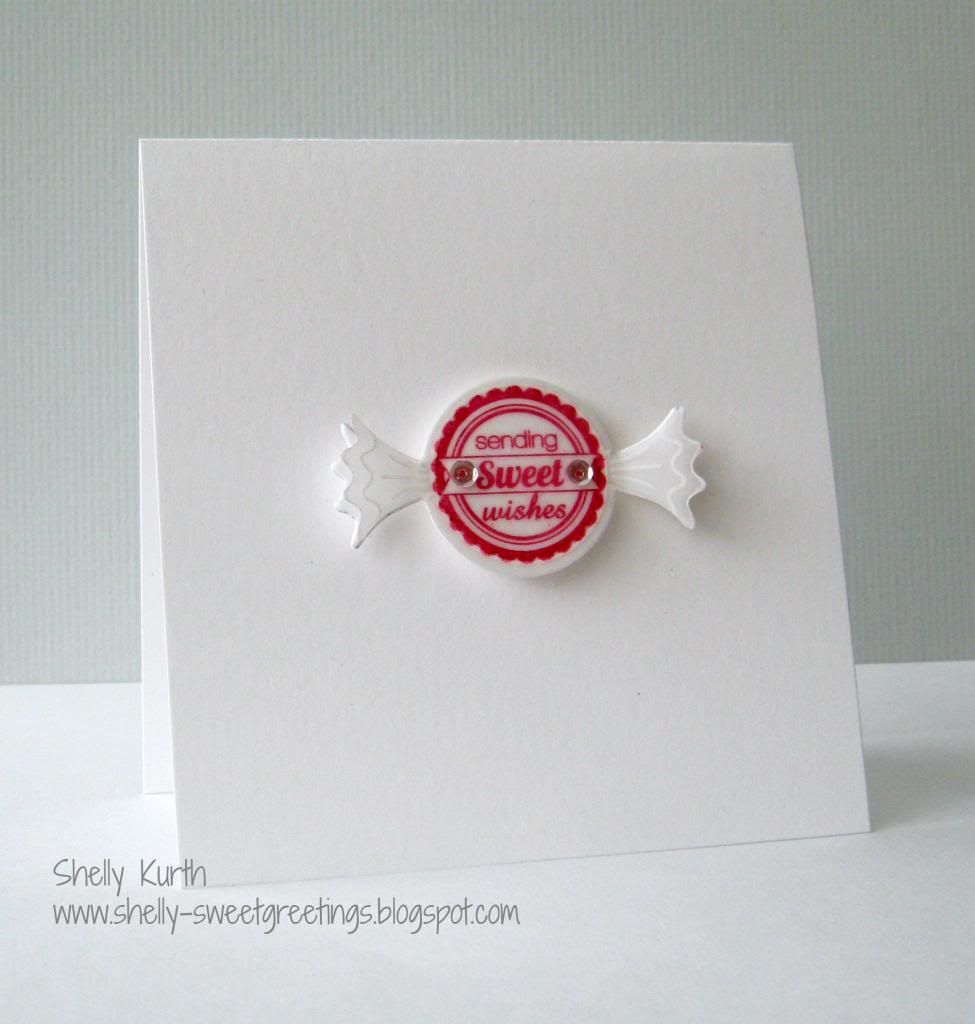 Yep. Just a simple CAS card. I used vellum with the die, then stamped on my candy wrapper in white ink. Then added my little candy sentiment in the middle of the wrapper. Once dried, I added the vellum wrapper on top of white wrapper. Then placed it on my card. To top everything off, I added a couple clear sequins. So, what do you think?!....
Thank you for stopping by, today!
Enjoy your day! :)