Hey y'all! I'm dropping in today, to share a card I made. :) It's not for a challenge, nor a DT assignment. Something I just manged to whip up. Now, if you are friends with with on Facebook, you might have saw my status, yesterday...?....Here's what I wrote:
"Where oh where, has my creative 'mojo' gone?....Every.Single.Thing. I try and create looks hideous!"
I seriously have had my 'mojo' leave before, but not like this! I couldn't even finish half the stuff I started because it was just that bad. (Of course, this all just how I felt.) I had tried embossing on vellum for something and after doing so, I couldn't get it to stay flat for nothing! Can you even emboss on vellum?!?...Do y'all any pointers, if so?...That was only
one
of the obstacles I ran into, yesterday.
What honestly helped me out, was how many crafty friends/friends/family came to the rescue! I wasn't expecting much in return for what I said. However, I ended up hearing such support and love! It truly touched me and even made me blush...I was feeling happy. :) 'Thank you', to all my crafty friends/friends/family and my blog followers! :) If it weren't for y'all, I don't think I would be doing what I'm doing...let alone, even have a blog (which, I really love my little blog).
Okay, so enough with my rambling! lol Remember, I do have a card to share! ;) I like to say that I'm doing better today, with my 'mojo'. I still don't think it's 100% there, though it's certainly better than yesterday! And I actually managed to finish a card!!! So, here goes!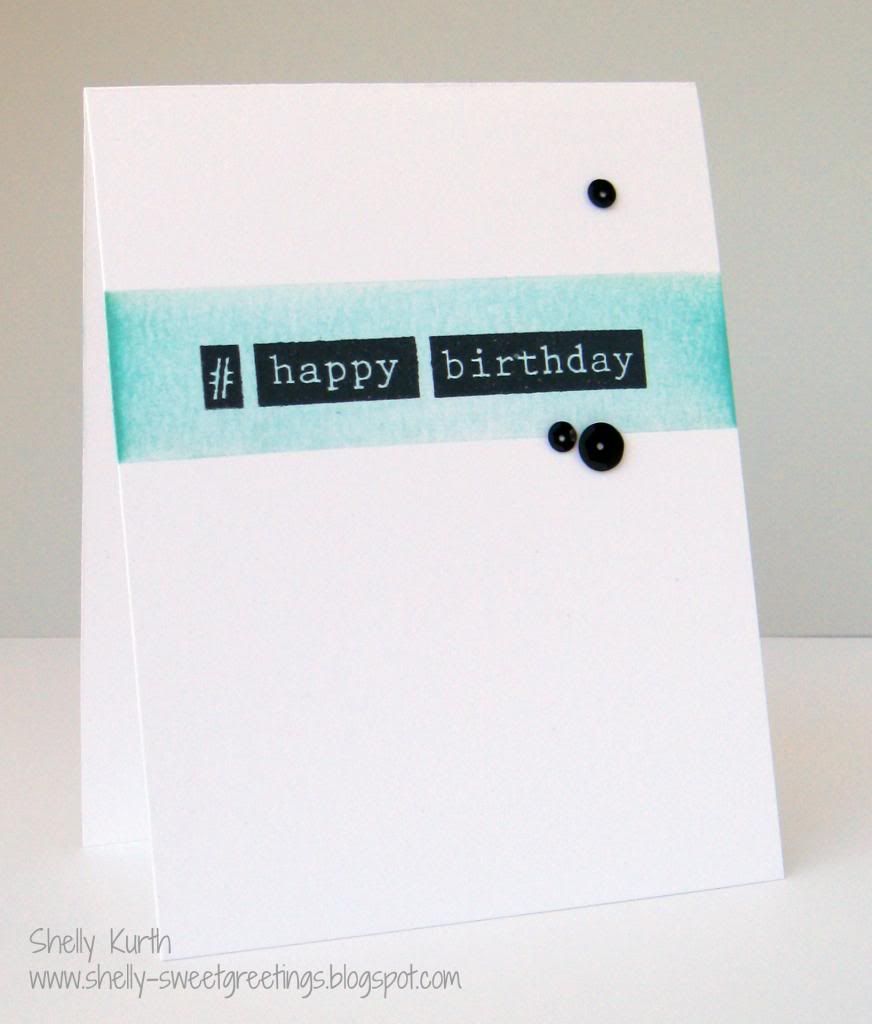 I recently order some
Sweet Stamp Shop Stamps
and knew I needed to put them to use! Which, I still have others I haven't inked up yet and more on the way! (I think I may have a problem! lol) I masked off my card for the 'green' strip of ink. Then added my stamps. I thought the 'hashtag' would be sort of fun to add to the card, so that's what I did. ;) So, tell my what you think?!...
Thank you for stopping by! Thank you for all the love! Thank you for listening to me ramble! ;)
I will see y'all soon!
Enjoy your day!