Hey y'all! Happy Sunday! Today, is a new challenge at
CAS on Sunday!
This time we have a color scheme to work with.
*Note: You don't have to use SU colors. As long as they're close in color you're fine. ;)
So, here's my card!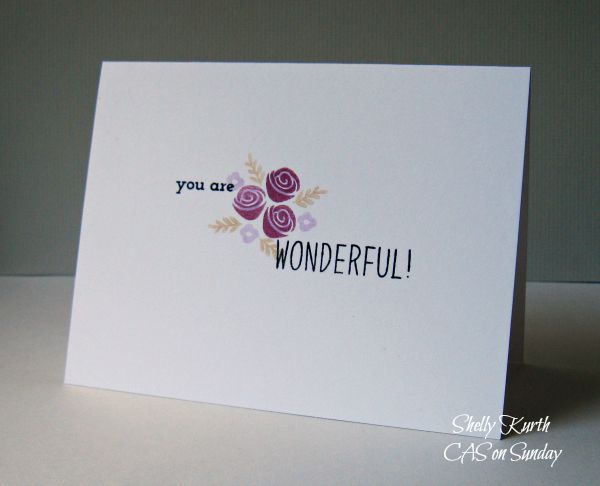 Let me just say, I
struggled
with making this card! These normally aren't colors I really work with much, so that alone was a challenge for me. Then, I kept going through my stamps/papers/etc. trying to figure out where to even start! You would have thought I never made a card before! Guess maybe my 'mojo' was gone some?...Well, thankfully it started to come back! I have to say, I think my card came out alright!?...
I did some 'mixing' on the stamps. Lately, I've been doing this. ;) I used
Lawn Fawn
for the flowers, for the 'you are' I used
Altenew
, and for the 'wonderful' I used
Waffle Flower
.
So, are y'all ready to play with us?!!...If so, you have a wonderful chance at being our Guest Designer at
CAS on Sunday!
How cool is that?!!...
Thanks for stopping by! Don't forget to swing on over to
CAS on Sunday
to see all the DT creations!
Enjoy your day!
-Shelly